Find the latest sample request forms
Easily find prescription medication sample request forms with a few steps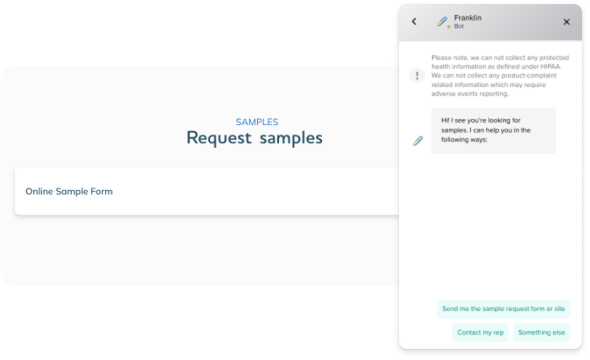 Seamlessly request medication samples
Search by drug
Search by drug and click the "Samples" button in the menu.
Find sample forms
Find and share sample forms with a few clicks.
Need more support?
Request more support from our chatbot or trained staff to help you find what you need.
Sample Request Challenges
Medication samples start treatment promptly
Medication samples can support evaluating treatment efficacy, start therapy promptly, and improve patient compliance; however, the logistics can be challenging.
$13.5 billion
is invested into sample distribution in the US.
92%
of US physicians have accepted drug samples.
Zero Cost. Free for You.
Practice implementation or approval not required to use. Works on all browsers.